Armenian Culture, Science and Education Development Foundation
| | |
| --- | --- |
| | |
Reviving Armenia's "Switzerland" Resort Town of Dilijan
Huffington post reports: Driving about 90 kilometers northeast of Armenia's vibrant capital city of Yerevan, the highway narrows into mountainous roads as you enter the Tavush region famous for its resort town of Dilijan. The unseasonably hot and humid summer has vacationers flocking to "Armenia's Switzerland" from across Armenia and bordering Georgia, Russia and Iran, as well as from various parts of Europe. They come seeking what affluent folks of Transcaucasia sought when they built their summer villas here — the crisp, alpine mountain air of unspoiled forests, preserved national park and lakes and to bask in the natural healing springs. In fact, Dilijan mineral water is bottled and marketed throughout the country.
The town of Dilijan is terraced in levels and hugged by natural beauty of its surrounding forests and mountains – the rushing waters of the Aghstev River winds through the lower level of the town.
No need to go mountain climbing here – Dilijan's streets are steep hills of endless labyrinths that only rise higher and are dotted with once quaint, now rundown houses with patched, tiled roofs accented with balconies with wood-carved railings – Dilijan's signature architectural design introduced in the 19th century by Malakans, sectarians who settled in Dilijan from Russia.
At the town center rotary I pop into a few hole-in-the-wall cafés that offer limited selections. Behind the rotary an expansive shallow man-made lake stands empty and its surrounding park is overgrown with moss. Some of the Armenian tourists pose for photographs before a three-man statue paying tribute to an epic movie "Mimino.
Across the town square, at one Getabnya Street, I find the 1896-built Dilijan Folk Art Museum – a two-story traditional Dilijan residence of princess Mariam Tumanyan. Rooms full of antique rugs, regal jewelry and period furniture offer the visiting tourists a view of Dilijan's past glory.
1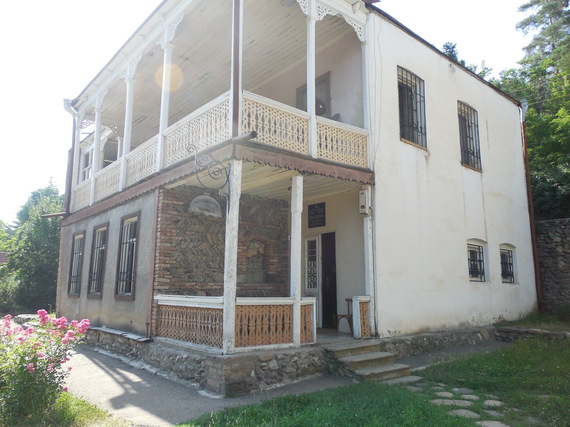 Away from the center, walking up Myasnikyan Street, an imposing building houses the newly renovated Geological Museum and Art Gallery — a two-story, marble floor museum exhibiting a collection of early works by Armenian and Russian artists and excavated artifacts from the region.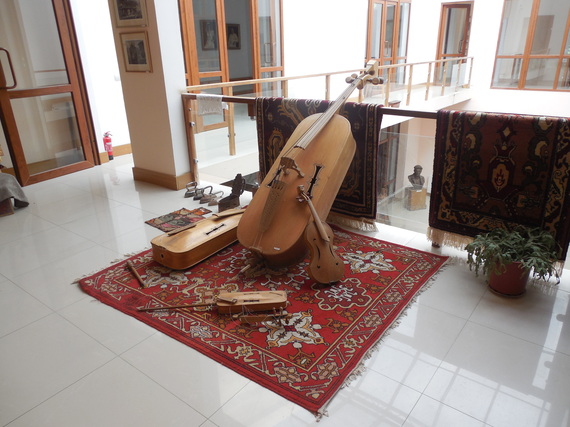 Further down, on Sharambeyan Street, sits the Tufenkian Foundation's "Old Dilijan" compound. It captures and brings to life the bygone elegance of Dilijan with newly built homes and store fronts true to the town's authentic signature architectural designs of wood-carved railing balconies with windows sporting elegant wrought iron railings created by local Dilijan artisans.
1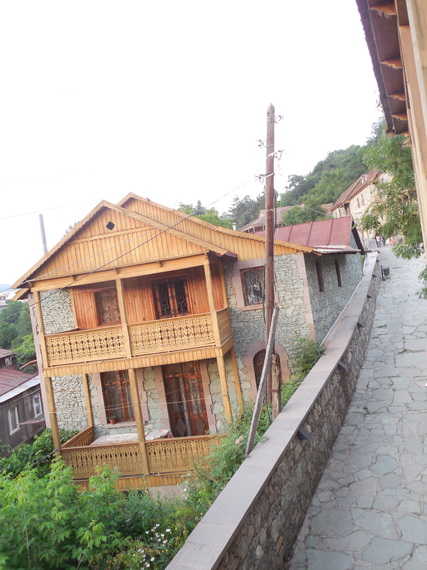 The compound includes a hotel, restaurant, museum and a number of artisanal storefronts where you meet craftsmen creating and selling their handicrafts. The compound's Haykanoush Restaurant offers delicious Armenian fusion cuisine in a carpet and wood decorated setting.
If you're looking for a more casual dining experience with younger crowd, drop by the newly opened, one-room Rudder Pub in the town's center, tucked by the commuter bus station. It offers a lively hangout for food, drinks and live performances – a direly needed spot for the town's youth who have very few options.
Although today's Dilijan is desolate and worn-out, newly opened B&Bs, restaurants, boutique hotels and even large hotel chains like Best Western dot the landscape in preparation for what many hope will be the town's upcoming internationalization boom, promising to inject a much-needed vivacity into Dilijan.
Along the town's main street, overshadowing the police station and few local grocery shops, sits the Bank's newly renovated four-story Knowledge for Development Center – a collaborative project with the American University of Armenia (AUA) – which houses the bank's museum, a much needed state-of-the-art public library, AUA's Extension program offering courses in tourism and hospitality management, and the Dilijan branch of Yerevan-based Tumo Center for Creative Technologies after school program that offers a myriad of workshops for the local youth.